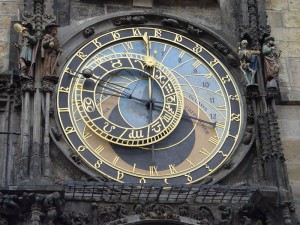 There are many reasons learners choose the cloud for their education. One of the biggest reasons being time.  We all need more of it and the abundance of time sucks on the web are never willing assistants along your educational path. The goal of saving minutes and flexible scheduling with online learning is often hard to meet if the learner isn't self-motivated and armed with organization skills to make the journey a success.  Fortunately, there are many web-based tools that can help students get organized, thereby helping to fulfill the promise of online learning to save time and even lighten the stress on our shrinking stock of discretionary hours. Here are some of my favorites that I currently recommend to online students at the high school, undergraduate, and graduate levels.
Google Calendar
One of the best ways to keep your schedule tight and orderly.  If you are new to Google Calendar start with this useful introductory video from the folks at Google. Some of the best features include the seamless integration from PC to tablet to mobile phone and of course the sharing and visibility features we have come to love from all of the Google Apps. Even more, the ability to stack color-coded calendars on top of each other in one viewing frame makes it easy to organize your personal, academic, and career events in one place.  For an in depth look at Google Calendar check out this webinar from the Apps team presented by Vinnie Vrotney.
Evernote
This little gem of an app is perfect for gathering ideas, resources, notes, and more on the fly for your online classes.  Whether you are taking notes in a lecture, scouring the web for creative ideas, or quickly jotting down a phone number Evernote makes it happen.  It is also available in a mobile and web-based version, making access seamless and available almost everywhere. As a bonus be sure to check out Evernote's Noteworthy blog to stay on top of new tools in the Evernote family such as Skitch and other great news in the web2.0 world.
Doodle
Even online learners will have to find times to collaborate face to face with classmates or instructors.  We've already reviewed how busy our lives are – now try to match that schedule with 5 others to meet. You can quickly be overrun with emails, attachments, text messages, tweets, and other other scattered pieces of information.  Bring everyone to one efficient and clean planning tool at the Doodle site.  You supply attendees with a range of time options and everyone gets to choose the slots that work for them making the scheduling process automated and getting us back to the goal of saving time. See Doodle's video page over at Vimeo for more.
Google Alerts
The promise of the "new web" has been easier access to information and that means less work to get the data I want.  For me, that means automation and bring the news I need to me.  Another simple tool to save time for e-learners is Alerts from Google. This simple tool let's you ask Google to send new search results to your inbox periodically so you can stay informed on the topic.  So if you are doing action research on flipped classrooms, tracking an oil spill, following news for a blog trend you are working on, or any other situation where having information delivered to you is beneficial then this simple solution is what you need. Bonus – check out this helpful blog post to set up Google Alerts that will track you and your name online keeping everything on the up and up for when you are looking for new career opportunities.